I am an author, wellness consultant and executive, top-rated radio host, yoga instructor, and a certified wellness coach. I am currently pursuing my Ph.D. in Health Psychology and certifications in Clinical Nutrition and Functional Medicine. I have advanced training in wellness coaching through WellCoaches, which is connected with the Institute of Coaching, an affiliate of Harvard Medical School.
I am the content officer for https://www.smashon.com/ the place to find and explore health and fitness experts & providers. I am an executive and entreprenuer, and my goal is to help people harness their well-being and empower those facing chronic conditions.
Treat yourself and the world well. Say YES! To Feeling GOOD! :)™
Create a free expert profile and build your brand with Smashon! https://www.smashon.com/
Visit my author website: http://ediesummers.wix.com/author
Visit my coaching website: http://PortlandWellnessCoach.com/
Listen to my radio show! http://www.blogtalkradio.com/thewellnesscoach
I have studied and trained in alternative health for 18 years. I was a wellness consultant, lecturer, and broker in the natural foods industry for 7 years. As a broker, I represented over 30 lines and serviced 50 chain and independent stores in Utah. Some of my clients included: Alacer, BHI, Herb Pharm, Greens Plus, Nature's Secret, Renew Life, Nutrex, Nutribiotic, and Weleeda.
I have training and experience in content, brand, business, and product development, start-ups, wellness coaching, corporate wellness coaching, stress management, energy healing & medicine, herbs, superfoods, nutrition coaching, natural foods, HABA care, food psychology, personal training, and fitness coaching – I was a professional dancer for 10 years.
I have been involved in the fields of alternative and integrative health for over 18 years as a consultant, patient, advocate, writer, and coach. I have experienced health challenges as well as supremely good health, and everything in between. I have a passion for health and I wish to continue to share it with others and empower people to realize the value of their own life and health.
I have positive recovery from CFS. I have achieved many of my lifelong goals including becoming a professional writer and dancer, and having my own coaching business. I continue to achieve goals I set for myself both personally and professionally by practicing what I recommend to my clients each and every day. Never give up on yourself. You are worth it.
Here is my book on how to self-coach your way to more energy!
It is available on Amazon and Kindle.
Here is it on Kindle:
Here is my upcoming book, The Memory of Health: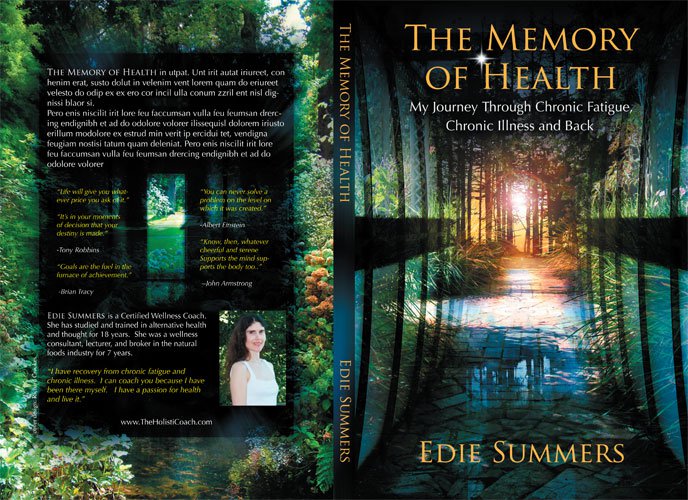 cover design by Richard Crookes
Testimonials
"How amazing it is that the sweetness of a spirit can so deeply touch us and affect our heart. That is was not your words, but a gentleness in them. That is was not your thoughts but the power of your concern. Sweet embers of beauty burn in your heart. The fire remains in those who you see, melts the snow of fear and concern, and fills the sky with bright stars. How deeply you have touched and healed my pain."
~ Cliff
"I met Edie in the last year. She is so caring and helpful with information. She has been through a lot herself, which makes her all the more credible, empathetic, and educated on products and practices which work from experience. I would highly recommend her!"
~ Sonia
"Edie does an amazing job! She's very thorough, kind, intuitive and professional. She has worked her magic with my wife and me for several years now. I highly recommend her."
~ Fred
"Thank you, Edie, for helping me cope as a care-giver. Your positive, practical pointers keep my feet on the ground and my head on straight. I will be forever grateful."
~ Jasmine
"Edie, you are one in a million."
~ K. H.